Each year Spokane Tribal Fisheries partners with local organizations and schools in a effort to assist local educators with outreach materials and programs. One such program is through the Lake Roosevelt Forum which offers Student Discovery Week. This exciting event is an exceptional opportunity for middle school students and teachers to explore the ecological, social and economic complexities of Lake Roosevelt's watershed. Each Discovery Zone is staffed by local resource specialists, including biologists, geologists and foresters representing many different agencies.
Recently we began developing a Salmon In The Classroom project to assist Spokane Tribal students with understanding the cultural, historical and Ecological importance that Salmon has to the Spokane Tribe of Indians.  The project will be online starting this fall and is highlighted by a painted mural and dugout canoe carved by tribal members.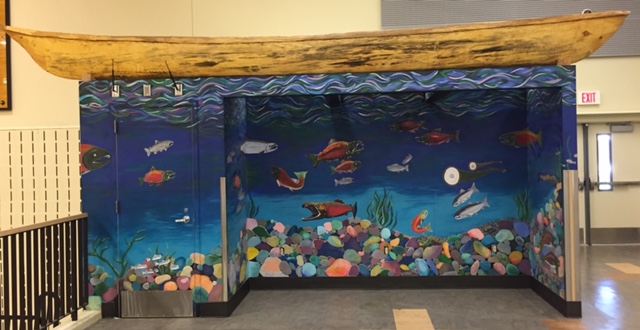 Please use our contact page to inquire about partnering with us or requesting a presenter for your event.