Program Description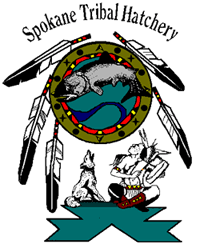 Returning salmon and residential fish populations sustained the Spokane Indian Tribe from time immemorial to 1939, the year Grand Coulee Dam flooded ancestral lands of the Tribe and blocked salmon migrating up the Columbia River to the Tribes usual and accustomed fishing grounds.
Land, fish, and a way of life, defined by the rich natural resources of the river was taken away by the development of the Federal Columbia River Power System. After construction of the dam, natural resident fish populations were unable to sustain meaningful harvest opportunities primarily owing to destruction of habitat and continual disruption in completing their life cycle resulting from dam operations.
In 1980 the United States Congress enacted the Northwest Power Act (Public Law No. 96-501, S 885) to address hydroelectric dams impacts on fish and wildlife. Pursuant to the Act, the Columbia River Basin Fish and Wildlife Program (CBFWP) was initiated to implement mitigative measures. In response, the Spokane Tribe developed a restoration and enhancement program for Lake Roosevelt that determined the necessity of a fish hatchery for creating harvestable Tribal and recreational kokanee salmon and rainbow trout fisheries.
The Tribes plan for the hatchery was incorporated into the CBFWP (1987) and in 1990 the Spokane Tribal Hatchery was constructed by the Bonneville Power Administration (BPA), a division of the US Department of Energy and agency responsible for funding CBFWP projects. Initial operations began in 1991 and focused on large scale kokanee salmon fry production. Hatchery operations have since shifted to annual releases of kokanee salmon and rainbow trout yearlings.
The Spokane Tribal Hatchery is operated in collaboration with the Sherman Creek Hatchery, managed by the Washington Department of Fish and Wildlife and funded by BPA, and the Lake Roosevelt Rainbow Trout Net Pen Rearing Project, operated by a group of volunteers with a BPA funded coordinator, to produce up to 100,000 kokanee salmon yearlings and 750,000 rainbow trout yearlings for annual release into Lake Roosevelt. Additionally, the Spokane Tribal Hatchery produces 6,000 rainbow trout yearlings for annual release into Spokane Indian reservation inland lakes.
The Spokane Tribal Hatchery is open to visitation from 8 a.m. to 3 p.m. Monday through Friday. Artifacts and reading panes chronicling the past fisheries including subsistence and cultural significance of the river and its resources to the Spokane Tribe of Indians are on display for visitors to view.
Comments are closed.