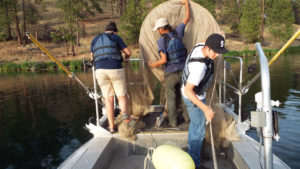 Each year Spokane Tribal Fisheries hosts several student interns who are in their Junior or Senior year of High school or recently started college. Typically the student interns participate in a Spokane Tribal program or are selected from external internship programs such as the American Fisheries Society Hutton Junior Fisheries Biologist program (huton.fisheries.org). Students will have the opportunity to work with on several projects within the Spokane Tribal Fisheries program including Limnology, Lake Roosevelt Fisheries, and Sturgeon Recovery. The Student Intern needs to be able to provide their own transportation to mentor's office in Wellpinit, WA or Airway Heights, WA. Each assignment will involve extensive field work ranging from 7-10 hours per day. The student does not have any required equipment needs, however, depending on the students desire to not "share" boots, the student may want to purchase a personal set of muck boots. All specialized equipment (waders, boots, safety and rain gear, etc) will be provided to the student for use by the Spokane Tribal Fisheries Program.
The students will participate in surveys which characterize fish community structure. The student will participate in various fisheries survey techniques and gain experience identifying fish species in juvenile and adult life stages, assist in the collection of biological data, and identify tags and markings. Data will be used by managers to characterize the performance and interactions of hatchery fish with wild fish, patterns in fish distribution, abundance, and growth, and assess limiting factors. Evaluating long-term changes provides insight into how the fish community is evolving. The information will be used to provide informed recommendations regarding hatchery stocking strategies, fishing regulations, and other management decisions which minimize impacts to wild fish and lower trophic levels while maximizing the success of the hatchery program.
Resident Fisheries
Students will work closely with a team of fisheries biologist to conduct fish surveys throughout the mainstem Columbia River from Grand Coulee Dam to Evans Landing, as well in the Spokane and Sanpoil Arms. Hutton scholars will have the opportunity to participate in surveys utilizing various fisheries techniques and equipment. Data (e.g. species, length, weight, tags) will be recorded from samples collected via boat electrofishing, beach seine, fyke net, gill net, and other methods. Student will gain experience identifying fish species in juvenile and adult life stages, collecting standard length and weight, and assessing marks and tags indicative of origin. The student will also have the opportunity to participate in the data analysis of the monitoring and evaluation work conducted on Lake Roosevelt in assessment of water management scenario impacts on fish and zooplankton, the quality of water available to biota in Lake Roosevelt, the success of the hatchery program, wild kokanee movements within the reservoir, fish immigration into Lake Roosevelt, and factors limiting kokanee and rainbow trout populations in the reservoir. Data analysis will be used to complete annual and multiyear reports for the program, develop management recommendations for Lake Roosevelt, and direct future assessment of the reservoir.
Anadromous Fisheries
Within the past year, the Spokane Tribe of Indians has created an Anadromous Program. The program is preparing tribal waters for, and furthering policy towards, reintroducing anadromous species to the blocked area of the Columbia River upstream of Chief Joseph and Grand Coulee dams. Preliminary efforts are focusing on the tributary habitats within the blocked area. A geographic information system (GIS) based model is being developed to evaluate the suitability of these habitats. The model will be reliant on various forms of field data, including but not limited to: water quality and flow, temperature, riparian vegetation, stream bed and bank characterization, and other parameters. The habitat work, and other projects, involve significant amounts of literature review, data entry and database management, modeling, and writing. Students involved with the Tribe's Anadromous Program will be less exposed to field operations and gain more experience with computer-based skills.
Limnology
Students will be assigned to work with a team of limnologists to conduct field work that will include evaluation of hydro-operation and hatchery effects on the lower trophic levels, water quality, and other limnological parameters of Lake Roosevelt. Data will be utilized to complete annual reports and to assess long-term trends in Lake Roosevelt. A Hydrolab® DS5 datasonde multiprobe (Loveland, CO) and Surveyor 4a is used to measure various water quality parameters (e.g. barometric pressure, temperature, dissolved oxygen, conductivity, pH total dissolved gas, , turbidity, oxidation/reduction potential, and total dissolved solids ). Other sampling techniques will include use of a Secchi disk to measure transparency and collection of water samples for chemistry analysis, and collection of phytoplankton and zooplankton samples.
White Sturgeon Recovery
Students will have the opportunity to work with an international team sturgeon biologists to continue project sampling which includes sub-yearling (juvenile) assessment monitoring, adult stock assessment monitoring, and telemetry monitoring. The schedules of the surveys are dependent upon water temperatures. Sub-yearling (juvenile) assessments will be conducted to detect natural recruitment, evaluate the conservation aquaculture program, estimate survival, and assess distribution, condition, growth, age, and behavior of wild and hatchery origin juvenile sturgeon in the U.S. portion of the upper Columbia River. Adult white sturgeon stock assessment monitoring will be conducted cooperatively with UCWSRI and Lake Roosevelt research and project partners to determine abundance of white sturgeon in the Transboundary Reach. Telemetry monitoring will provide information on U.S. spawning areas and identify important seasonal habitats and patterns of sturgeon movement in the Lake Roosevelt and Transboundary reaches as part of a cooperative UCWSRI Transboundary Telemetry and Data Management Project. Additional tasks will include benthic invertebrate sample processing to provide insight into food resources available in larval sampling areas. Interim hatchery operations will continue using wild caught sturgeon larvae, following protocols devised in 2011 to protect the genetic diversity of the upper Columbia River sturgeon population. A particular task of the Hutton scholar will be to assist in the collection of tissue and blood samples from captured sturgeon.
Important Links